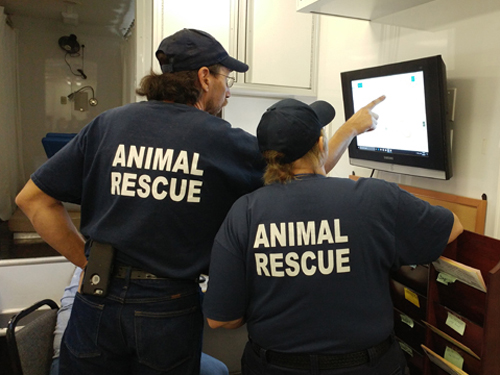 UPDATE! New Volunteer Training will be one day only, Saturday January 15. We will focus on Basic Awareness and the Incident Command System. New volunteers will be encouraged to join with all NVADG volunteers Saturday January 22 for Annual All-Volunteer Refresher Training.
New Volunteer Training, Saturday and Sunday, January 15 & 16, 2022. Required 16-hour Orientation and Awareness basic training for all new NVADG volunteers.
We prepare year-round to provide professional-level help for animals affected by disasters. Most of the work we do is provided by volunteers, people like you who care and want to help.
We have a job for everyone at NVADG. Animal care, administration, dispatching, evacuation and field shelter-in-place, radio programming, computer programming, volunteer coordination… you name it, we do it.
But you can only "help" if you understand how things work.  Animal disaster response best practices, standard operating procedures, the Incident Command System, how we communicate and report, self-care, and more. That's why we require volunteers attend our 16-hour New Volunteer Orientation and Awareness training. We encourage New Volunteers also attend our Annual Refresher Training, Saturday January 22.
Due to the intensity of this instruction, and the many (almost weekly!) deeper trainings that we do, New Volunteer training is only offered once a year.  For 2022 it will be January 15 and 16, from 9am to 5pm in Chico.  The cost is $65, plus the cost of a LiveScan for your background check.  All other regular training is at no cost.
Want to use the skills you have, or learn some new ones as a NVADG Volunteer? Click here to learn more and register!