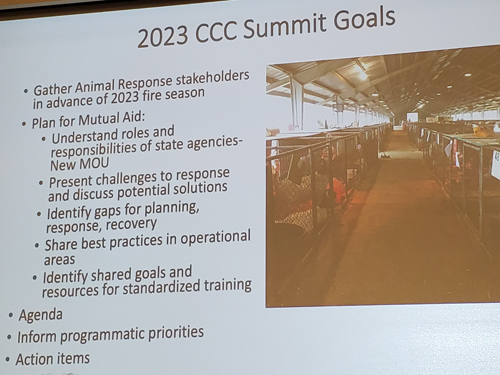 There is a lot of work going on to better incorporate animals into County Emergency Operations Plans (EOPs).
This was the key takeaway from the 2023 California CART Collective (CCC) Summit, held at UC Davis. CART is an acronym for Community (or County) Animal Response Team.
In disaster response, the unique elements of animals, volunteers and going behind evacuation lines have been a challenge for the existing emergency management processes. Why such a challenge?
Animals can't take care of themselves,
Volunteers can be in short supply at the exact time you need them,
Crossing evacuation lines is restricted to specific approved personnel.
And so, we are wrestling with, and creating, new processes for EOPs. Everyone agrees responding to animals in need during a disaster is ethical, humane, lessens trauma and saves human lives. The challenge is animal disaster response can be likened to trying to fit the CART-round-peg into the government-process-square-hole.
The summit was attended by about 100 people representing CARTs, non-government organizations and government agencies.
More info will be available through CalCARTs, www.calcarts.org.