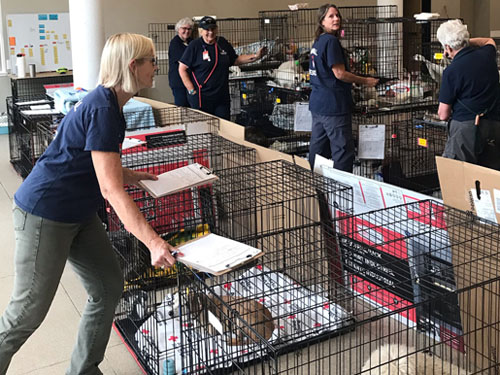 NVADG volunteers were called to action with Butte County Animal Control (BCAC) for Shelter/Evacuation for Butte County and for mutual aid for Plumas County!
The Dixie Fire started July 14 in the same location as where the Camp Fire started on November 8, 2018. This time the wind was blowing to the northeast instead of the southwest.
When Jonesville and later Butte Meadows were issued evacuation orders, we activated and set up an emergency small animal shelter. We also prepared teams for animal evacuation.
For Plumas County, we were activated by BCAC to set up an emergency small animal shelter in Chester. On the night of July 21, BCAC and NVADG volunteers hauled supplies for 100 animals up the dark smoky road to Chester. We've averaged 40-50 animals a day, and are still there today. Plumas County Animal Control has its hands full with its other shelter in Quincy, which has risked multiple evacuation orders.
We send a shout-out of thanks to donors who have made it possible for NVADG to have the equipment and supplies needed to support this effort! Fortunately we are able to leave those supplies in Chester for the duration of the Dixie Fire.
We appreciate the donations of time, training and energy by our volunteers to help evacuees by helping their animals. We are especially grateful for financial donations, small and large, that make it possible for us to be prepared to do this work. Thank you.