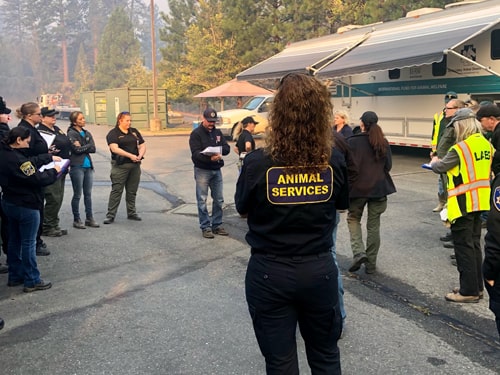 NVADG volunteers have joined with other CARTs, Animal Control Officers and others to help take care of animals during the huge Caldor Fire evacuations! El Dorado Animal Control is the lead agency, and they are doing a terrific job.
We are honored to help. This feels like a long evacuation.
We know the challenges of long evacuations. It's hard on people and hard on the animals. We know our firefighters are doing a fantastic job up against ferocious fire conditions. But – fuels and weather can dictate repopulation timetables.
We also know the safety challenges in evacuated zones right after the fire has passed. Workers will need to come through and clear roads, reset utility lines and secure precarious trees. Delicate, respectful efforts need to be completed concerning loss.
While all the fire and pre-repopulation work is being done for all the fires, hundreds of people are caring for the animals. Evacuating, feeding, watering, walking, cleaning, and driving through evac zones with hay, food and water for those sheltering in place.
Our Butte County community knows how difficult evacuations are. We are proud to be trained, equipped, and prepared to help other communities in their time of need.
Thank you for the support that makes this possible.
If you want to get trained to be a Disaster Service Worker for animal care, contact your local Animal Control department to see if there is a Community Animal Response Team (CART) in your area. NVADG does a required 16-hour new volunteer training class every year in January. Our next new volunteer training will be January 15, 16, 2022 in Chico, CA. Follow us on Facebook to learn when registration opens!