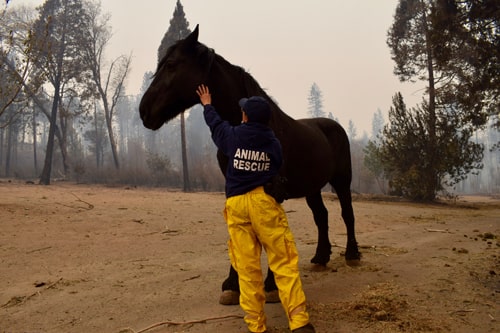 November 8, 2021.
Here at the third anniversary of the Camp Fire, we remember the losses of the day.  The lives, the homes, the treasures, and easy ways of the life on the ridge.  We remember the animals.  And we pay tribute to the determination of the community for forging ahead to rise strong.
Hundreds of people helped thousands of animals during the Camp Fire. NVADG volunteers, Butte County employees, mutual aid, professional disaster responders and ordinary people who just pitched in to help. We will be forever grateful.
We honor the animals lost in the Camp Fire. Once the speed and ferocity of the fire was understood in those first few hours, the inevitability of enormous loss set in. We extend our deepest sympathies to those who lost companion animals.
Working under Butte County Animal Control, NVADG had emergency animal shelters running within the first hours of the fire. It would be 78 days before the last one would close. Our shelters housed roughly 4,000 animals and we sheltered-in-place another 6,000 in the evacuation zones. We answered over 4,200 calls for service and dispatched dozens of evacuation and food/water teams every day.
It turns out that response for the animals was an indicator of how resilient this community is, and that it is willing to work hard for recovery. Butte Strong is not just a slogan!
Animal sheltering and rescue during evacuations helps everyone heal. The animal, the owner, and the people impacted by the disaster.
Emergency sheltering of evacuee's animals gives owners a chance to take care of their immediate human needs. Their pet is safe; it's one less thing for them to worry about.
Dispatching trained and approved evacuation or care teams for animals left behind brings everyone comfort. Knowing action is taking place to save the animals is vital for our sense of humanity.
When the urgency is over, and the recovery and repopulation begins, reuniting people with their pets helps mend the stress.
Multiple major fire evacuations have confirmed this to be true: Animal evacuation and sheltering during the disaster helps people recover after the disaster. NVADG is humbled and proud that we were able to respond to the Camp Fire and aid in recovery.
We encourage support of Community Animal Response Teams (CARTs). Check with the CART in your area about getting trained to volunteer. NVADG will host its annual New Volunteer 16-hour orientation and training on January 15 and 16, 2022. Find out more here.